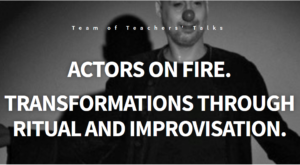 28. November at 12:00 Berlin time.
The team of teachers of the Online Theatre Academy have started a series of talks on questions of acting in times of transformation of stage practice. Students and experienced theatre professionals from all over the world are exchanging ideas. The next topic will be Actors on Fire. Transformations through Ritual and Improvisation.
The actor always stands between rules and freedom, control and surrender, repetition and change, ritual and improvisation. Are these contrasting notions irreconcilably opposed to each other, or are they mutually nurturing phenomena in acting practice? What is the principles of their dynamic relationship, which ignites the flames of actor's creativity?

No registration: join us on ZOOM