The Team of Teachers
The Artistic Director
Dr Jurij Alschitz has created a unique model of team teaching.  The members are certified teachers with the right to pass on his "Training as Method".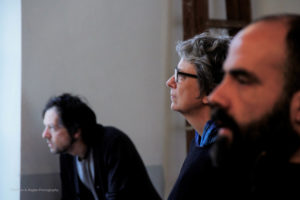 The Team
The teachers work independently worldwide whilst updating their work with the ongoing research of Dr Jurij Alschitz on a regular basis. Depending on the nature of the project or teaching assignment the team works together in various constellations.

All team members lead their own theatre centre or theatre group; they work as freelance directors and as teachers at academies.
Christine Schmalor, Germany

Programme Director of the World Theatre Training Institute AKT-ZENT. Theatre teacher / trainer in most projects; scientific documentation; head of ars incognita publications; 2004-11 president of ITI Theatre Education & Training Committee.

⇒Dimitris Tsiamis  Greece

Founder and artistic director of the Per-Theater-Formance company working as actor, director and teacher world-wide.

Riccardo Palmieri,

Italy

Actor, director, teacher. Founder and artistic director of ⇒Cajka Teatro d'Avanguardia Popolare in Modena, which creates and hosts international and national theatre events.

⇒Olga Lapina  Lithuania

Director at different Lithuanian state theatres. Performances and workshops in Italy, Brazil, France, Germany, Estonia, Russia etc. Since 2011 acting and directing teacher in Klaipeda University and Lithuanian Academy of Music and Theatre. PhD "Improvisation as a Creative Strategy in the Process of Making Performance" at LMTA 2018.
Adjunct
Apostolos Apostolides, Cyprus
Giampaolo Gotti, France/Italy
After 25 years of postgraduate courses, hundreds of artists are teaching and directing based on Jurij Alschitz's "Training as Method".  See Alumni.