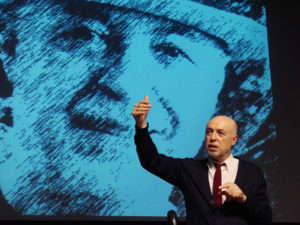 Dr Jurij Alschitz
Director, pedagogue, scientist, author
Dr Jurij Alschitz is one of the most well-known and popular theatre teachers who educated thousands of students working around the world.  He is highly respected as a theatre researcher and as the author of many books on theatre pedagogy.
He received his first director training in Moscow under Prof. J. Malkovsky, one of the then last still living pupils of K.Stanislavsky. He received his second course of training at the GITIS – the Russian Academy for Theatre Arts, under Prof. M. Budkevich and Prof. A. Vasiliev, where he subsequently held a teaching post. After numerous creations in the main cities of the Soviet Union,  in 1987, he took part in the foundation of the world famous theatre "School of Dramatic Art – Anatoly Vasiliev", where he went on further developing his own rehearsal and training methods.
Since 1992 Jurij Alschitz has been leading projects and teaching at universities and drama schools in East and West Europe, Asia, South and North America. Since 1994 he has created several theatre centres for education and research together with his master-students. They subsequently formed The European Association for Theatre Culture – EATC. He founded AKT-ZENT international Theatre Centre Berlin, which has been appointed research centre of the International Theatre Institute since 2011 and was renamed World Theatre Training Institute in 2017.
In 1999 he founded the international bi-annual festival for theatre training methods – METHODIKA (held in Cyprus, Italy, Sweden and Russia)
His current works are focused on the theoretical research and practical theatre training methods. In 2011 the project of Jurij Alschitz "The World Theatre Training Library" – (WTTL) was recognised by the International Theatre Institute as one of the most important theatrical explorations of our time. In 2012 he proposed and realised the first MA Master Programme for Teaching Professional Theatre at UNAM, Mexico; which was  further developed in 2015 in cooperation with European academies.
Jurij Alschitz developed through his latest research a completely new so-called spherical approach to theatre education using wave and resonance theory. With his proposals for quantum training, he introduces a new pedagogical model for theatre education.
"La Grammatica dell' Attore" – 1996,1998,2001;
"La Matematica dell' Attore" – 2003 (Ubulibri, Italy);
"The Vertical of the Role"- 2003 (translated in English, German, Swedish, Greek, Italian; edition ars incognita, Germany); published 2014 in Brazil (Ed. Perspectiva);
"40 Questions of one Role" – 2007 (translated in English, German; ed. ars incognita, Germany); published 2013 in Brazil (Ed. Perspectiva);"45 questions of one role"- 2015 Из-во ГИТИС, Россия
"Teatro senza regista" -2007 (titivilus, Italy); published 2011 in Brazil Ed. Grupo Galpao;
"The art of dialogue" – 2010 (translated in English, German; ed. ars incognita, Germany)
"Training Forever!"- 2003 (Malmö, Theatre Academy, translated in English, Swedish), "Training Forever! Part 1"-  2013 (revised edition translated in English ed. ars incognita, Germany); 2014 (translated in Spanish UNAM press  Mexico); "Тренинг forever!" – 2009, 2010,Из-во ГИТИС, Россия.