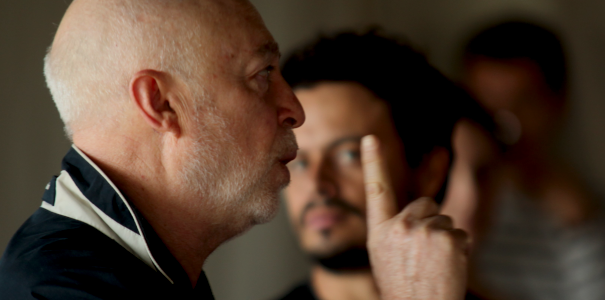 Directing Practice for Directors and Actors
Blended course
8 October 2023  Online Introduction
12 – 16 October practical studio work in Berlin
The most important thing in a director's work is not to invent a performance, but to realise it with the actors on stage. The actor is the most important, the most difficult, the most unpredictable "material" that the director meets in the process of creating a performance.
Theatre academies pay too little attention to the craft of rehearsal, which is why the World Theatre Training Institute AKT-ZENT, together with the Online Theatre Academy, offers a practical course on how a director can rehearse with actors.
A course on rehearsal practice will be helpful for both directors and actors, as actors are in many ways the directors of their own roles. In addition, it is becoming increasingly important to use professional methods for the collaborative way of working that is common today.
This workshop is short, only five days, but enough time to understand and master the basic rules of two highly interesting and effective methods. In order to use these five days effectively, all participants will meet online 4 days before for an intensive introduction, where they will be given tasks to prepare, which they will then realise on stage.
This is the first part of "The Art of Rehearsal". The next workshop on further rehearsal methods is planned for spring 2024.
Course content
The first method of rehearsal I have called "Apokryphos", borrowed from the Greek apokryphos – hidden. This method is both unusual and very useful because it helps the director and the actor in actions and words to discover or create shadowy, unusual and paradoxical passages of the scene and the performance that are either not to be found at all or only with difficulty in the text of the play.
The second method is the "Method of Emptiness". It is methodologically related to the first and is based on the assertion that 70 to 80 % of the play consists of emptiness. Everything that exists in the play is built on the foundation of emptiness. Emptiness is the basis for working with the text, it is the space where the most important events take place, where feelings are born and where the main decisions are made. The method reveals to the director and the actor what is not seen or heard, but is the basis for the life of the role and the performance.
In the seminar, maximum time is devoted to the practical implementation of the director's ideas on stage with the actors. A minimum of theory and a maximum of practice.
This seminar is aimed at directors and actors.
The number of participants is limited as I have chosen a new format in an intimate, professional atmosphere where everyone should have the opportunity to put the methods into practice. Open practical rehearsals and their evaluation will take time accordingly.
J.A.
Practical information
Teaching language: English
online: Sunday 8 October 2023 at 15:00 – 18:00 UTC+2 | Berlin time
Berlin studio (Wilmersdorf)
Thursday 12 October – Monday 16 October 2023 at 10:00 – 14:00
Tuition fee: 490€
Registration
Please register and pay via our Online Theatre Academy ⇒here
for any questions, please use the contact form