World Theatre Training Institute AKT-ZENT/ITI
Cari amici e colleghi,
In autunno ci aspettano due progetti entusiasmanti, che vorremmo presentare ora.
In primo luogo, siamo in attesa degli incontri artistici durante la IX Methodika a Pescara (Italia) dal 2 al 6 ottobre con il tema the Training as Method. Ringraziamo il nostro partner di cooperazione Istituto Italiano Pedagogia Teatrale per la realizzazione.
Questo Festival internazionale per i metodi di formazione teatrale invita gli artisti – insegnanti, pedagoghi, attori, registi – ad un'opportunità unica di condivisione, discussione e sviluppo delle idee più inusuali per il training teatrale e le prove pratiche. La struttura del festival fornirà ai partecipanti l'irripetibile possibilità di esprimere idee irrealizzate. Principalmente METHODIKA celebrerà l'aspetto artistico dell'insegnamento.
Invitiamo tutti gli interessati – non c'è una quota di partecipazione – portate solo i vostri sogni, visioni e idee. E' sufficiente inoltrare domanda di partecipazione alla direzione del festival completa di biografia e descrizione dettagliata della propria formazione artistica. E' altresì importante specificare in quale delle tre forme si desidera partecipare:
In parte attiva senza presentazione di un proprio training o una propria messinscena
In parte attiva con richiesta di presentazione di un proprio training e/o una propria messinscena*
Come uditore
Trovate tutte le informazioni e le scadenze qui: Methodika 2021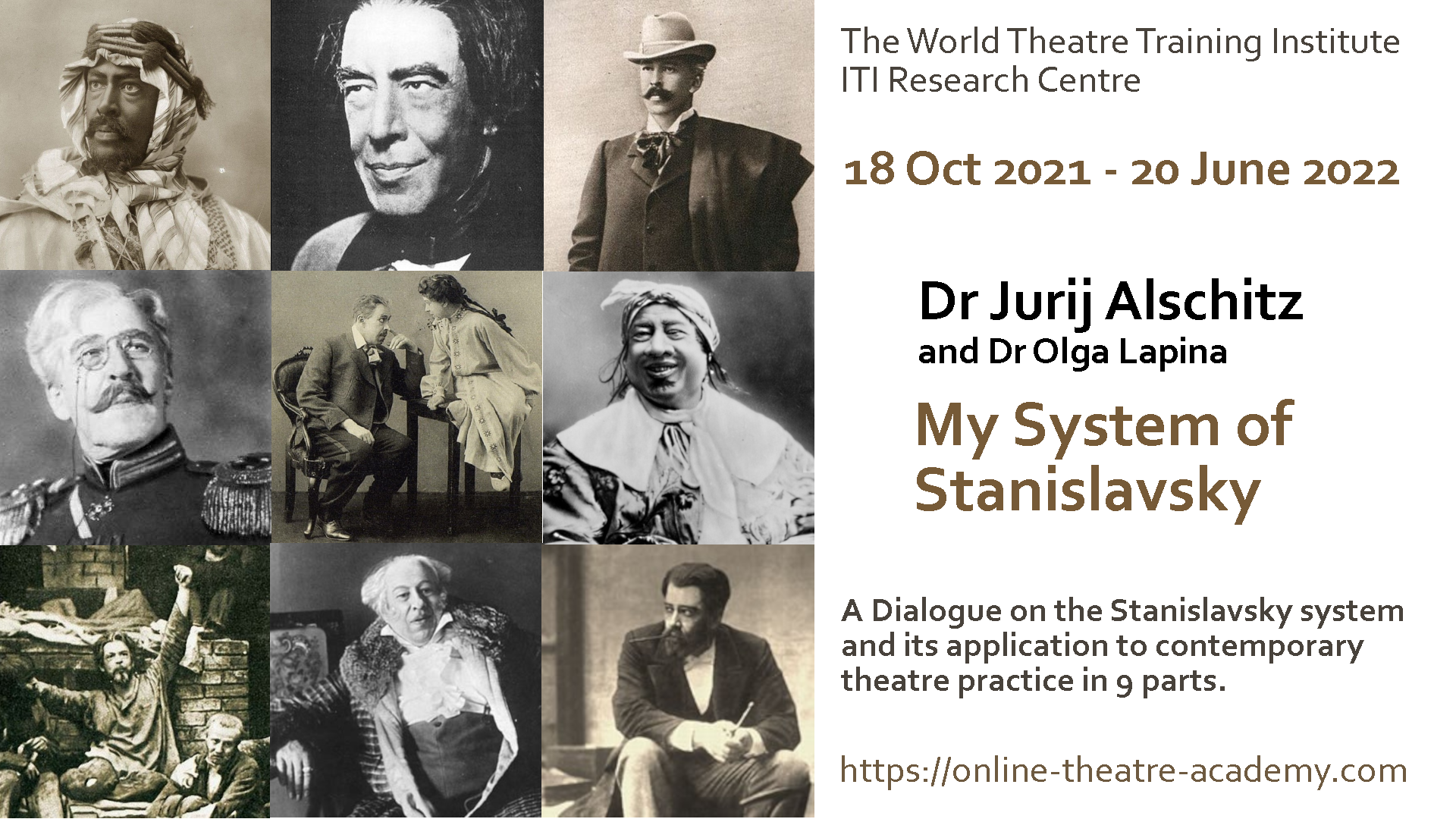 We will also be starting an exciting new online project:
While Jurij Alschitz explores and tests the most unusual forms and ways of theatre training, he once again turns to "the system" that had shaped him as a theatre artist a long time ago. Should we forget old-fashioned acting theory or is there still something worth discussing when we look at new contexts, new ways of acting and a changed dramaturgy?
Jurij Alschitz has invited his master student, the director/teacher Olga Lapina, to a dialogue: Time versus System. Participants will have the chance to experience an entire theatre dynasty; while Dr. Jurij Alschitz studied with Y.Malkovsky, a direct student of Stanislavsky, Dr. Olga Lapina graduated from the class of a second-generation Stanislavsky student, Professor Oleg Kudryashov, at the Moscow University of Theatre Arts (GITIS).
Together they will share their experiences – conflicts, insights and discoveries with "the system" that they face when teaching and directing.
One thing is clear: "the system" is getting on in years. But it still has the potential to bring forth many systems. With profound knowledge of the original theory, dialogue and a wide range of practical exercises, this course aims to encourage everyone to formulate "their system" to become a unique theatre artist today.
Starting in October, there will be each month one session with a specific theme. You can book the whole course or single sessions.
The most clever will get the early bird reduction until 15 September!
Please find the whole programme and registration here: My System of Stanislavsky
A nome di tutti i colleghi del World Theatre Training Institute AKT-ZENT vi auguro un meraviglioso periodo estivo
Christine Schmalor
programme director